The defining characteristic of "The Crown" is that it has empathy for every character.
The show could tilt into soap opera, casting certain characters as heroes and villains. But it always resists that urge. The result is a story that captures the tension these people face as they seek—and fail—to find balance between who they are as humans and the symbols they represent.
Season four maintains the qualities that made the first three seasons hum: An exceptional cast, excellent detection, and sets and locations that put "Succession" to shame. I've found every season of "The Crown" to be entrancing.
I was a bit concerned that because I have a faint memory of Charles and Diana's relationship that would color my perspective on season four. This was the first time the show covered ground I remembered. Those concerns evaporated as it became clear the show was focused on the honest, though ultimately futile, attempts the pair made at finding peace in their mismatched union. That there's no "winning" party is a testament to the care put into this show.
Whoever oversees casting for "The Crown" deserves every cent they get. The seamless turnover of the cast in season three was quite a magic trick, and the performances by Emma Corin (Diana) and Gillian Anderson (Margaret Thatcher), both new to the show in season four, continue an impressive streak of casting.
Special appreciation also goes to this wig: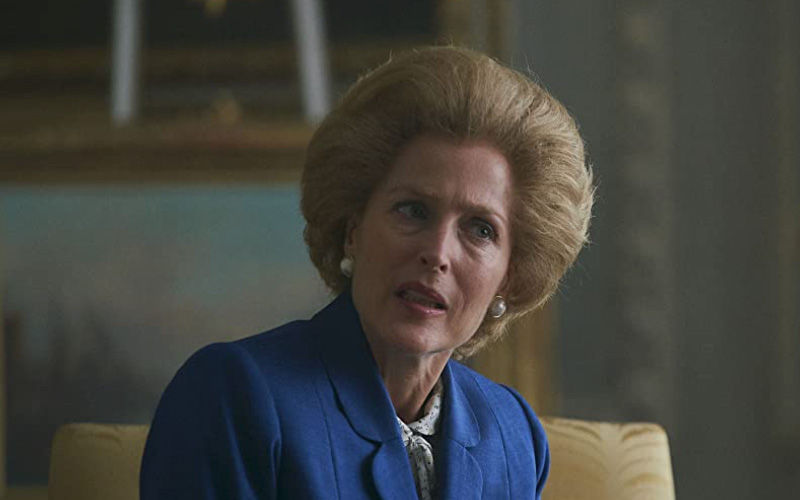 The good news is we've got two more seasons of "The Crown" on the way. The bad is that we won't get season five until 2022.
(Photo by Des Willie/Netflix - © Netflix 2020, Inc., via IMDb.)